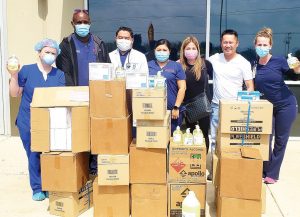 As the COVID-19 pandemic has swept across the nation, it has led to a shortage and rationing of medical supplies. The strain of rationing supplies is felt, heavily, by smaller, independent facilities, like Emergency Care of Floresville.
On March 23, the staff at Emergency Care of Floresville, located on Wilson Drive near McCoy's Building Supply, reached out to Diva Nails and Spa nearby to ask if they had a few boxes of spare face masks that they would be willing to share with the emergency center. Much to their surprise, Diva Nails and Spa provided not just a few boxes of masks, but 32 boxes — in addition to hand-sanitizing soap, gloves, and high-grade alcohol.
To be able to donate so many masks to Emergency Care of Floresville, the owners of Diva Nails and Spa went to their supplier and explained the emergency care center's request. Their supplier, Texas Nail and Beauty Supply, was generous enough to match the amount of boxes of masks that Diva Nails and Spa had purchased to donate.
"Emergency Care of Floresville is grateful for the generosity of both Diva Nails and Spa and Texas Nail and Beauty Supply," said Matt Johnson, general counsel for Arete Healthcare, the parent company of the emergency center. "Because of their generosity, the ER has plenty of masks to give to patients and their families to keep them safe while they seek care at the ER. The generosity and kindness shown by Diva Nails and Spa is overwhelming. Their donation helps Emergency Care of Floresville in our mission to treat and heal those living in Wilson and the surrounding counties."
Emergency Care of Floresville expresses its thanks to Diva Nails and Spa, and plans to pay this generosity forward and "encourages the population of Wilson County to continue to help one another as we all fight this pandemic together," Johnson added.